Year of Birth?
1995
Current place of residence?
Huntington Beach California 
How old were you when you first started riding and what got you into it?
Ok take it waaaay back to 03' when I was 7 maybe 8 years old. Somehow my dad became friends with these freestyle motocross dudes that called themselves "Chapter 11" . These guys traveled around doing freestyle shows at monster truck events, rodeos and cool shit like that. After running into these guys at one of their shows they invited us to the after party at their house not too far away and as my dad tells it "you smoked all their asses in pool so they loved you". I had already been riding dirt bikes for 3ish years so that night when they asked me if i wanted to do some freestyle with them I was all about it. We started hangin' out and riding dirt bikes, bicycles, and skateboards all the damn time so naturally I began to fall in love with with action sports. I couldn't do any tricks on my bicycle but I was havin' fun ripping long ass skids down the street and jumping lil curb cuts everywhere.  
What was the first BMX video you owned?
These same local freestyle dudes were involved in this dvd called "Intraverse". Intraverse is a 30 minute DVD with all of us freestyle guys and some local BMX/ mountain bike guys. Shit was so sick, it had everything: ant snorting, beer drinking, grocery store antics, 12 different angles of the same gap firecracker on a mountain bike, fucking with "old man river" the security guard and of course a clip of me doing a double no footer on my KX65 in 2003. (23 min in) Here's the link, in my opinion its a must watch hahaha -  https://vimeo.com/8904956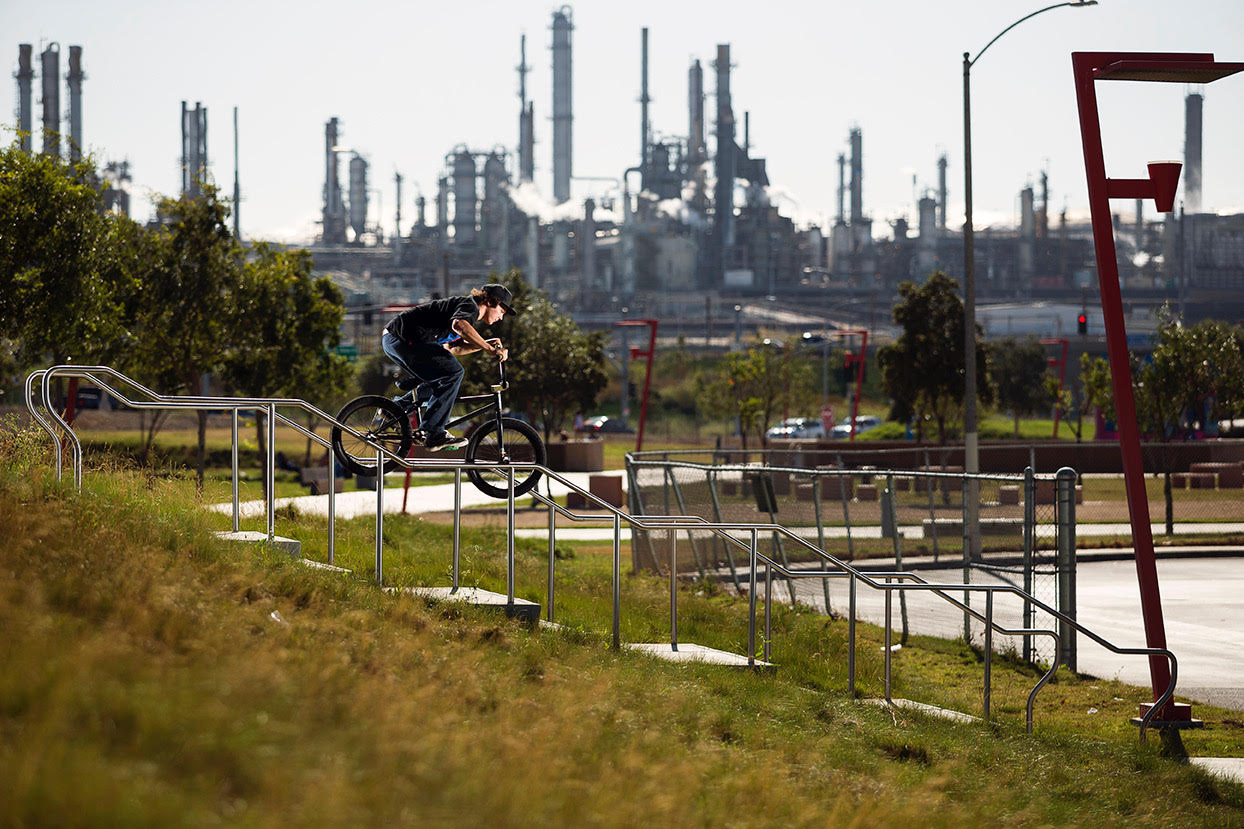 So Cal. Photo jeff Z
Where did you grow up and what's your hometown like?
I grew up in Tucson Arizona. A pretty fun shithole for a kid that loved playing in the dirt. I lived pretty close to school so i would always ride my bike through the lil desert trails and hit all the tiny dirt jumps that other kids in the area had built. We had a pretty rad house that had a full on pool and jacuzzi perfect distance away from the house which made for a real fun gap to jump. The house had a big ol 6 car garage, game room, small water fountain in the front yard and 3 rooms for me, my lil brother, and my parents. backed up to the house wash a wash that became the perfect spot to build dirt jumps. I had a dirt quarter pipe, back flip jump, a couple extremely shitty doubles, and all kinds of weird lil desert jumps. (this is where the flat tire curse began effecting my life) haha All and all I lived there for 12 fun years before making the transition to beautiful Southern California.
What's your daily routine like?
Work, work, work. That's the shitty part about living here in So-Cal, everybody wants to live here so nowhere is cheap. On a typical day ill head into work anywhere from 4-7am and be home 3-12 hours later. Sometimes the job goes quick and we'll get it done in a couple hours, sometimes it'll take us a full day. Usually when I get home from work I go straight to my backyard workshop where ill have some random project that is either way behind schedule or so not important and ill work on whatever that is until the sun goes down.

What's your worst habit?
I'm so god damn dis-organized sometimes and I'm really good at making my workspace look like a tornado ran through and flung shit everywhere. 
What riders originally inspired you?
Its hard to say exactly who cause I didn't really grow up watching DVDs or web videos so the riding I would see was either in the x-games or on fuel tv. It wasn't until after I moved to California before I started kinda figuring out what BMX was and really began to start watching videos. Dak, Shawn Mac, Trey Jones, and Eric L are some of the names I remember searching 
And who do you like watching ride now?
Nowadays I love watching all my team mates and friends kill it. Reed, Paley, and Alex are next level boys. Ethan, julian, and travis content to blow my mind all the time. Other than the boys i fuckin love watching Nathan williams, Dakota Roche, lewis mills, kohlfromsd, it drives me insane how Dan Kruk runs his bars but that motha fucker kills it. I like to watch Boyd, Alex Hiam, Raekes, Hobie Doan, Corey Martinez and I'm sure if i sat here any longer i could come up with 15 more riders.

How did you get on BSD?
Fuckin' Reed man… thats my guy. A few years ago i just happened to be chilling in Barcelona with the homie Eric Sans (if you know the Eric Sans chant take a moment to scream it 10 times) and Eric had told me that Reed Stark was flying in and was gonna stay at the trap house. Now i had never met Reed and maybe only seen a few videos of him but when he got the trap house we were instant homies. Over the couple weeks he was there we had some good sessions and good laughs until were siting in the house one night when Simone was scrolling through instagram and all of a sudden goes "woah Augie simoncini just left stranger". We all hit the gram to see the news and the story began to form. Rich Hirsch had gone behind us all and added Adam LZ straight to the pro team and well look how that turned out for them…. Anyways we talked a while about it and Reed said something like "yoooo we need to get you on BSD" and its all history from there.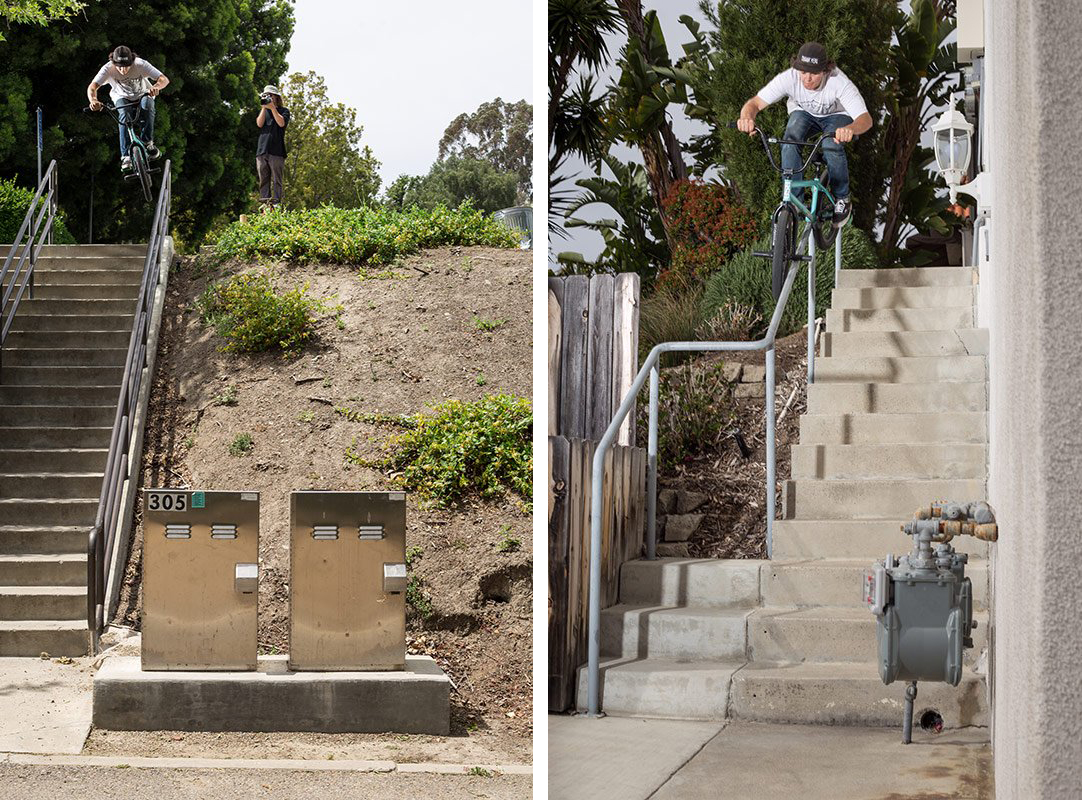 And what was your first BSD trip like?
The first trip was so rad. Grant hit me up and asked if i wanted to go to woodward with the boys. The good woodward not this lil west coast guy, I'm talking the real ass OG woodward. I've never even been to the east coast so i am STOKED. Got my plane ticket straight to Philly where i met up with Reed and He was already out and about filming with the home Justin Benthien so i had to make them come let me in the hotel. We got up there so i could build my bike as fast i could and hit the streets. We got to ride philly for a couple days and met some sick ass dudes before hopping on a greyhound bus to woodward. Alex and Paley were already there causing trouble so when we got there it was game on. The non stop banter between Alex and Paley made me laugh for a week straight without stoping. I swear they almost killed me via laughter.

You've been to some pretty far flung places so far like South Africa and Thailand, what was your favorite place?
This is a way hard question but I'm gonna go with where id rather live and I'm thinking i would def live in South Africa for a while. Everything is pretty similar to here in southern cali except the fact that you can just go to a game farm and drive your truck through hundreds of acres looking for giraffe or some other wild african beasts anytime you feel like paying $20. Oh and not to mention the beach is so damn close. If its not a beach then it could just be a lil 20 min hike through the mountains to a triple stacked 400ft tall waterfall that you could just climb all the way to the top of and drink from the very source of the waterfall but i don't know I'm just saying that was one of the coolest things i have ever done. Shout out reed for initiating the climb.

Some of the food in bangkok looked pretty gnarly, were you down to try it all? What was the wort thing you ate? 
Absolutely not. There was so much weird shit that made me queasy just looking at that i just pretty much stuck to the spring rolls or the most fried chicken i could find and rice. I did eat the cheek muscle of a fish that Luc Legrand had given me though and that shit was tasty. Oh, actually the first thing i ate in Thailand before anything else was a cricket and i just ate one so the lady got all mad and wanted me to buy the whole thing. I wasn't into it haha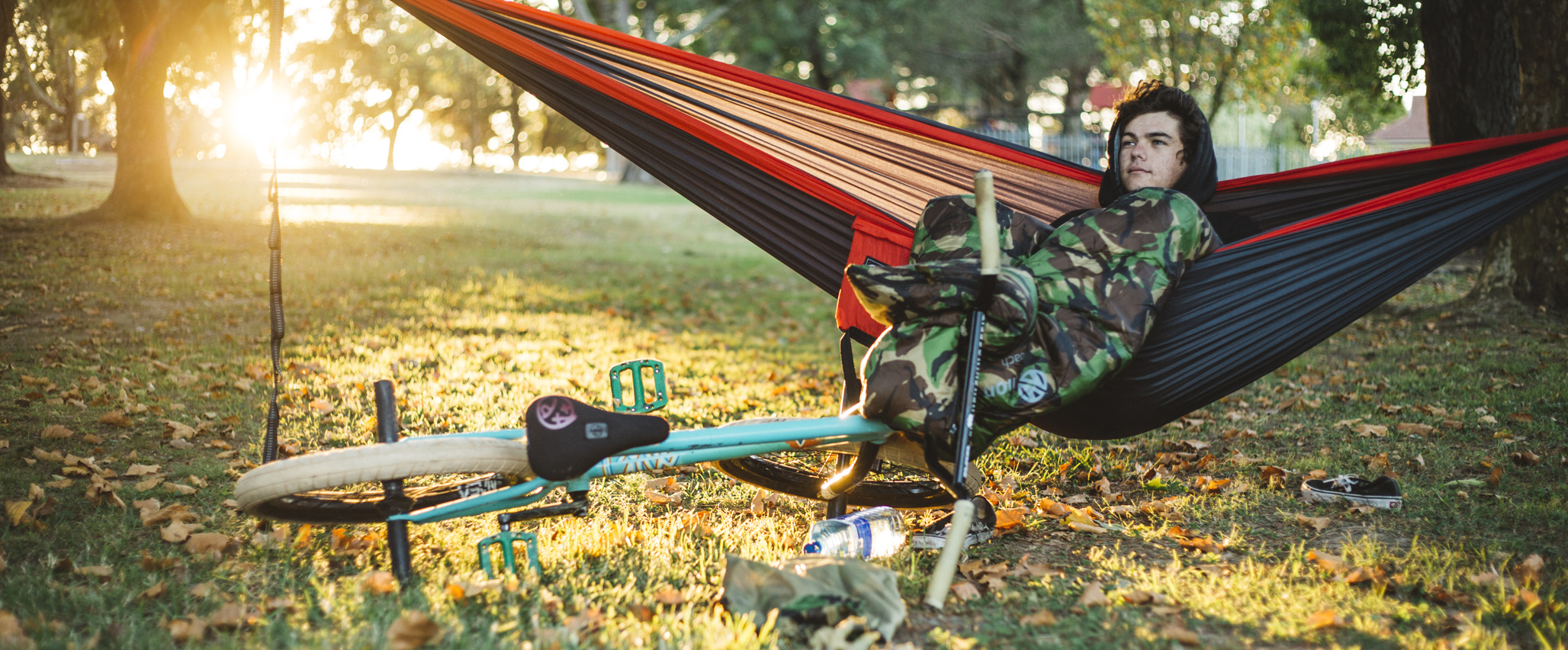 Anywhere that's not So-cal is cool with me. I love traveling and just riding anything new.

Denim Cox
What new places are you looking to get to next?
 I wanna go to Germany so bad. Australia to but holy fuck its expensive. Its also really important that i get my ass to Argentina sooner or later.

What's the hardest you've worked for a clip?
Mentally or physically? Cause mentally I'm thinkin it was the Dwyer Gap pegs ender from my Monster Mash part because I had to marinate that one in my brain for at least a year before actually atempting it then after i failed had to marinate it for 2 more years before going back and pulling it. Physically id say its the clip in my "new kid on the block" video where I 180 into a steep ass bank thing and cab into the street. That was a 2 year battle. Visited the spot one time and couldn't pull it off then a year later almost to the day sauce and i drove all the way to vegas (roughly 4 hours) after a night of partying just to get that clip. i tried it many times and i hit the ground many times. I came out of that clip looking lie i jumped off a motorcycle at 80mph haha.

Where is the last place you rode?
Today actually i went out with Jeff Z to film an episode of "In the Volvo" and we just rode some random local gems then headed to long beach where we found this absolutely horrible kicker that i just had to hit.
What does a typical BSD team trip consist of?

Good bants, chill vibes, heeeeeavy sessions, and so much laughter its painful.
During your travels have you had any crazy situations kick off?
One of the first day i was ever out of the country in my entire life a full blown riot broke out in Barcelona because their team had won the world cup for soccer or something so the whole city was getting crazy as fuck lighting stuff on fire, climbing light poles, breaking shit everywhere. It was crazy as hell so Catfish, Dan beerley and i were at the forefront of this riot filming snapchats and going nuts with all the people until the riot police starting charging at us! We all ran as fast as we could and were still just inches away from getting swooped up by them. Shit was bad news but somehow we all made it back to the hotel. 
How did the Grime bar come about?
Im not sure I can fully answer this question because I'm thinkin there was definitely some premeditated thought before this all happened. What i can say is that while i was in Thailand Grant just asked me curiously how i was enjoying the photo-type 4 piece bars he had given me a few months previous and I told him they were the best feeling things i had ever touched. Immediately he replied with "Denim Cox sigg?" I was so confused, shocked, and incredibly stoked.
You seem to be an advocate of the 1" OS Gorilla Grip bar/stem system, has it improved your life?
Oh hell yea. My bars haven't slipped in over a year. Tell me another bar/stem combo you can do that with, ill wait. 
And what's the deal with the pedals?? haha
 My pedals are 100% the reason i am able to do anything on a bike. i neeeeeed my metal pins to stay locked into the waffle cone on the bottom of my vans authentics so i never slip a pedal because there is Nothing worse then doing a trick and slipping a pedal. The vans authentic/ jcpc combo is arguably more important than the 1" gorilla clamp/bar combo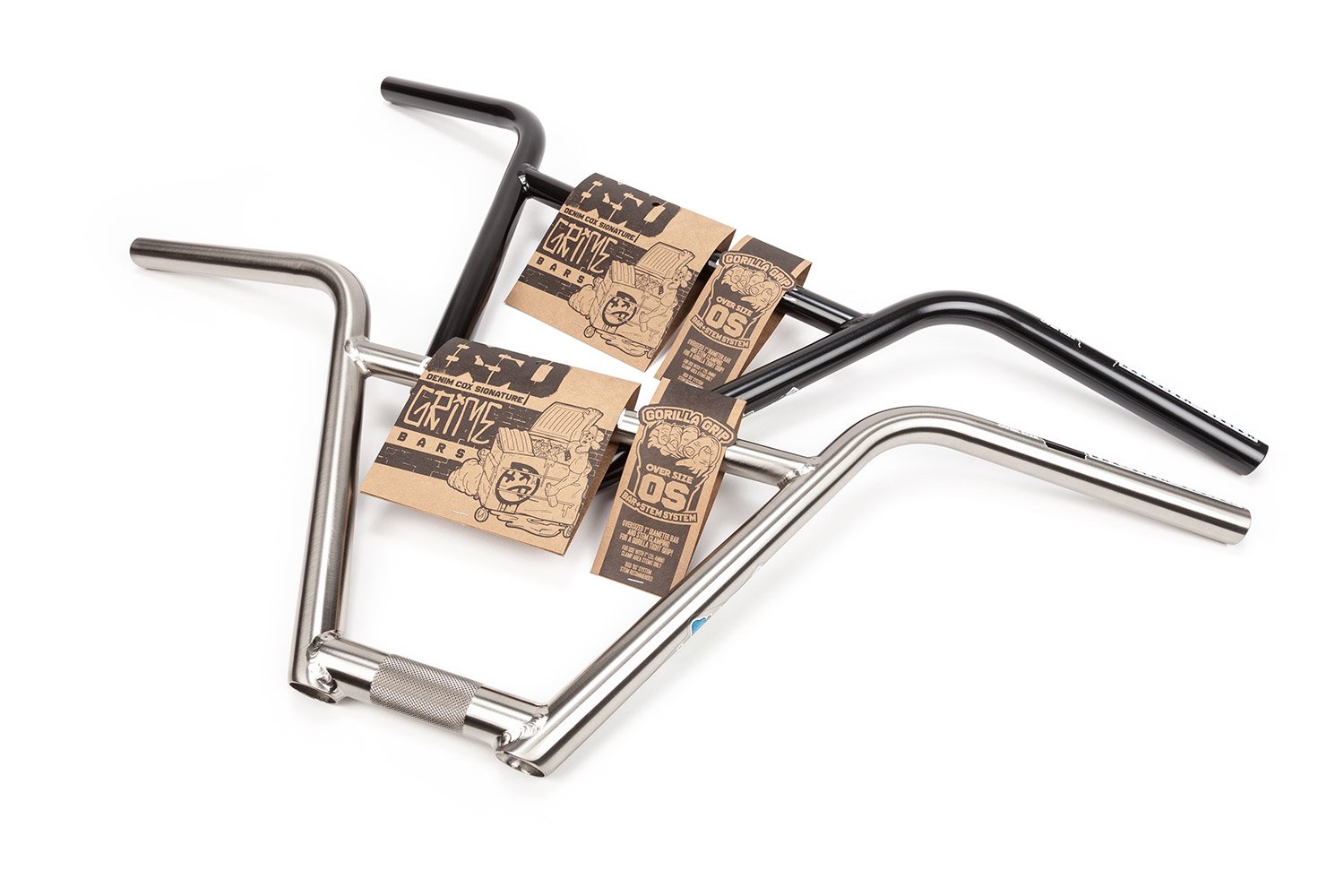 Denim's sig Grime bars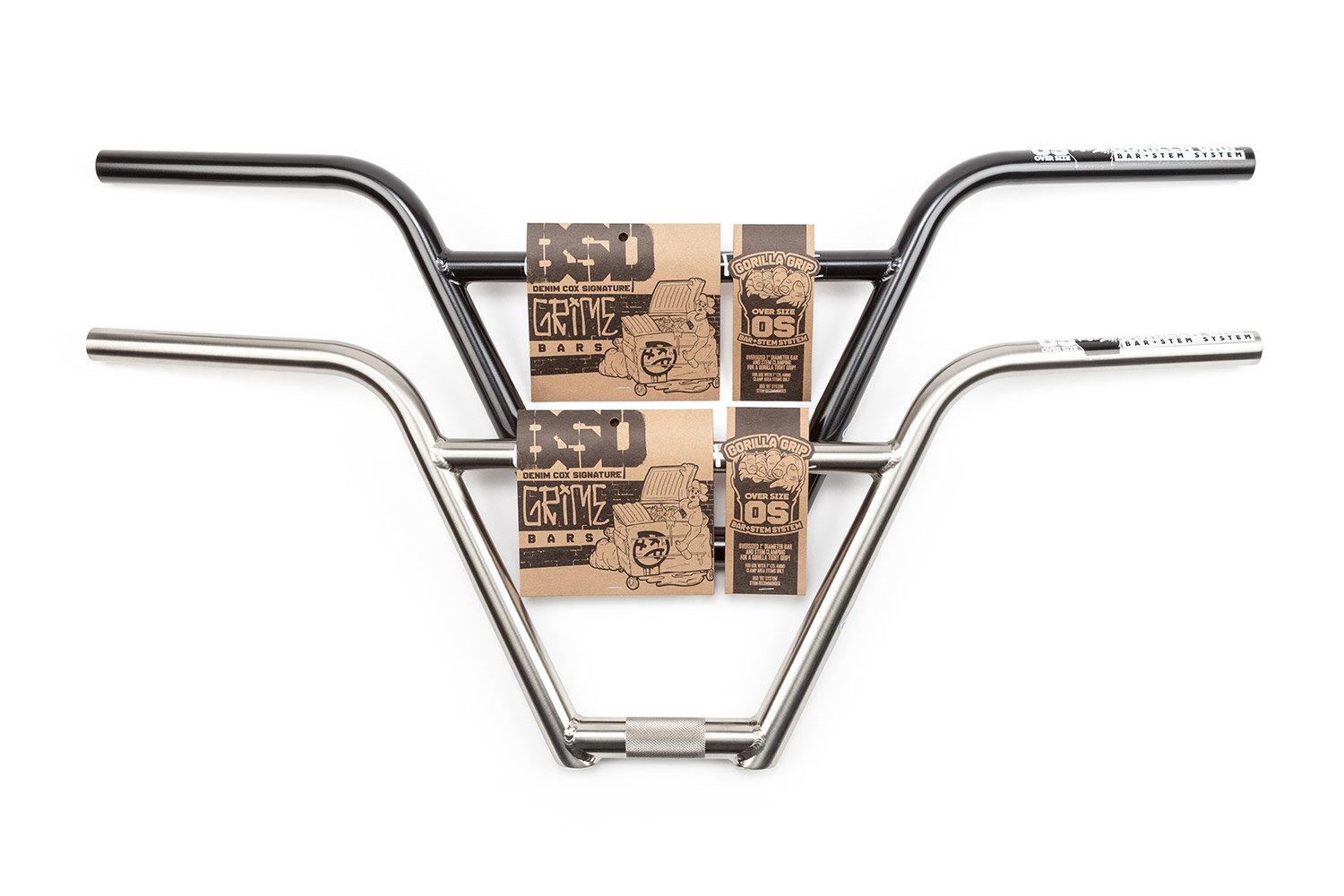 BSD's first ever 4 piece bar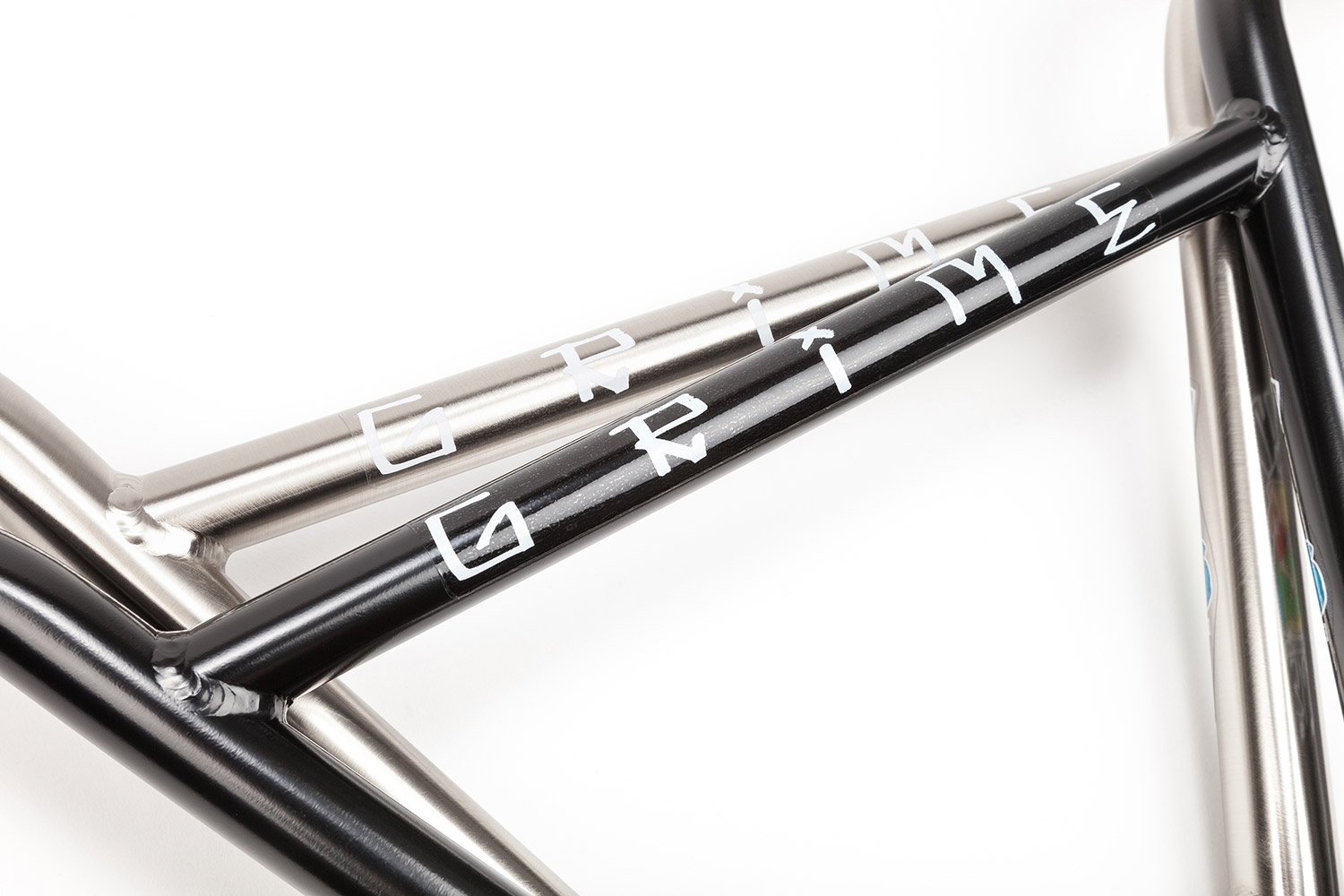 Cholo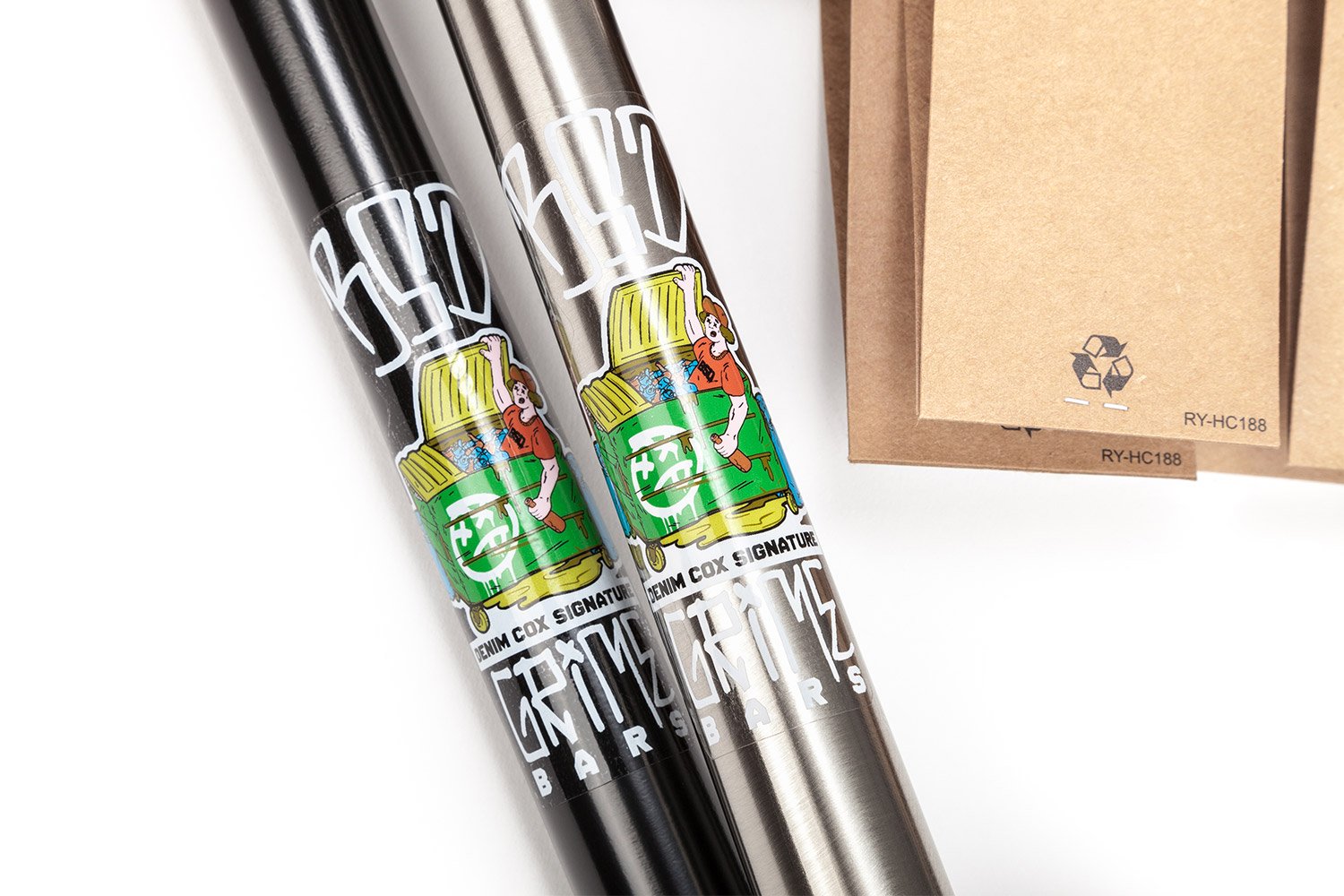 Dumpster life
How do you like to run your setup?
Chain slammed, bars a cunt hair forward of fork level,and the seat real high so its a nice comfy sit down pedal.
Any final words?
Thank you, I love you BSD