Year of Birth?
1993
Current place of residence?
Pretty much Glasgow haha.
How old were you when you first started riding and what got you into it?
I guess around 5, as soon as i learned to ride a bike I was never off it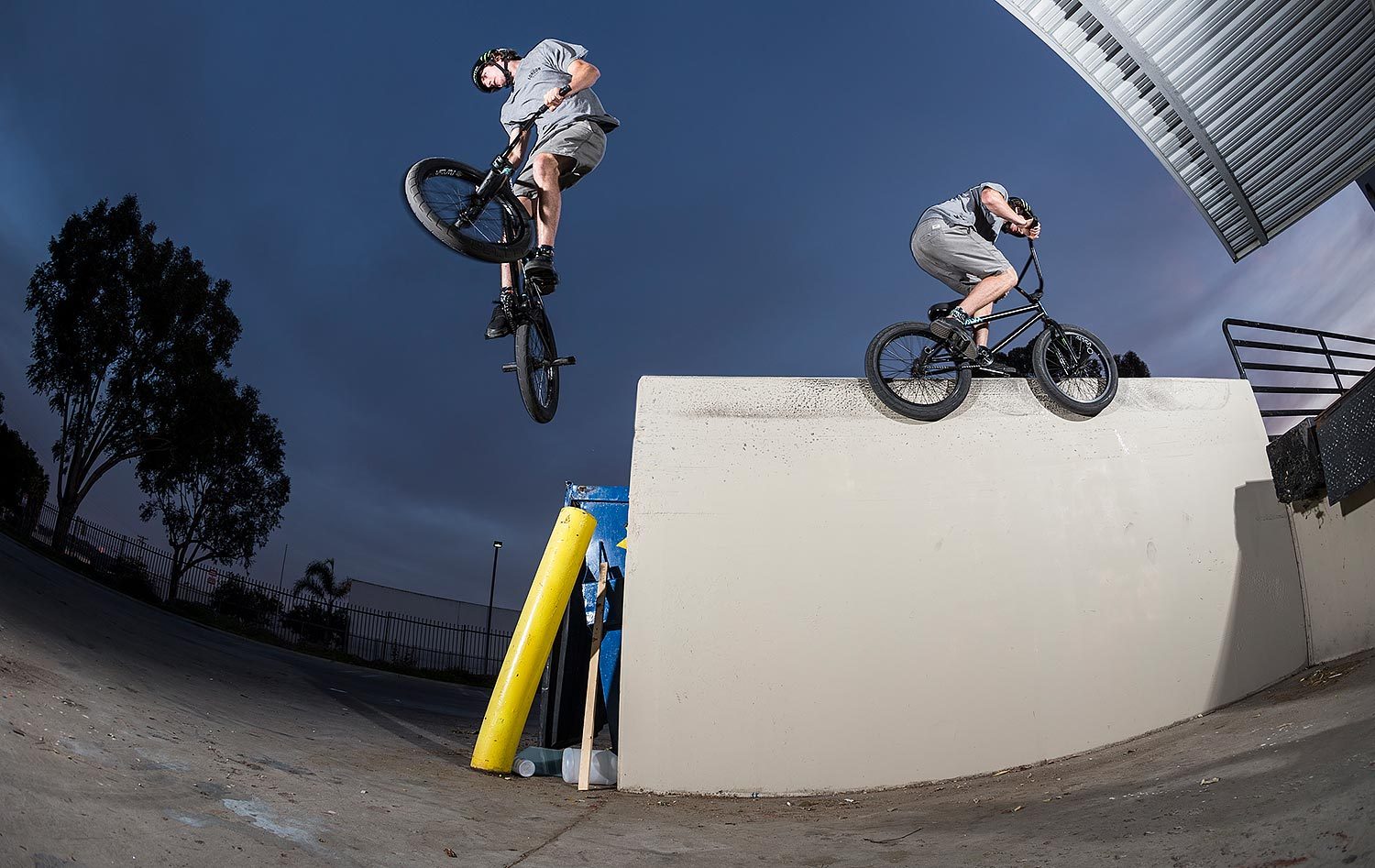 Alex D in SD shot by Eisa Bakos.
Where did you grow up and what's your hometown like?
I grew up in Market Rasen which is a really small village.

What was the first BMX video you owned?
Seventies – From Love to Hate and Back Again. 

What's your daily routine like?
Wake up, wait on people to get ready to go ride, ride all day, have dinner and go to sleep.

Best memories of where BMX has taken you?
My first BSD trip which was around France is the best memory so far.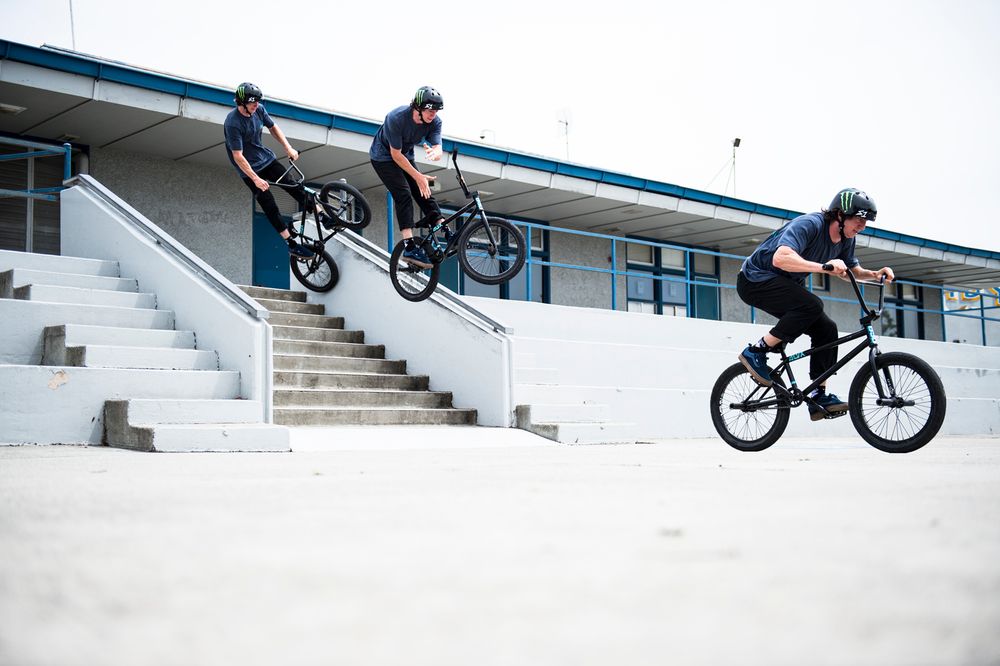 Alex in NorCal / photo by Wes McGrath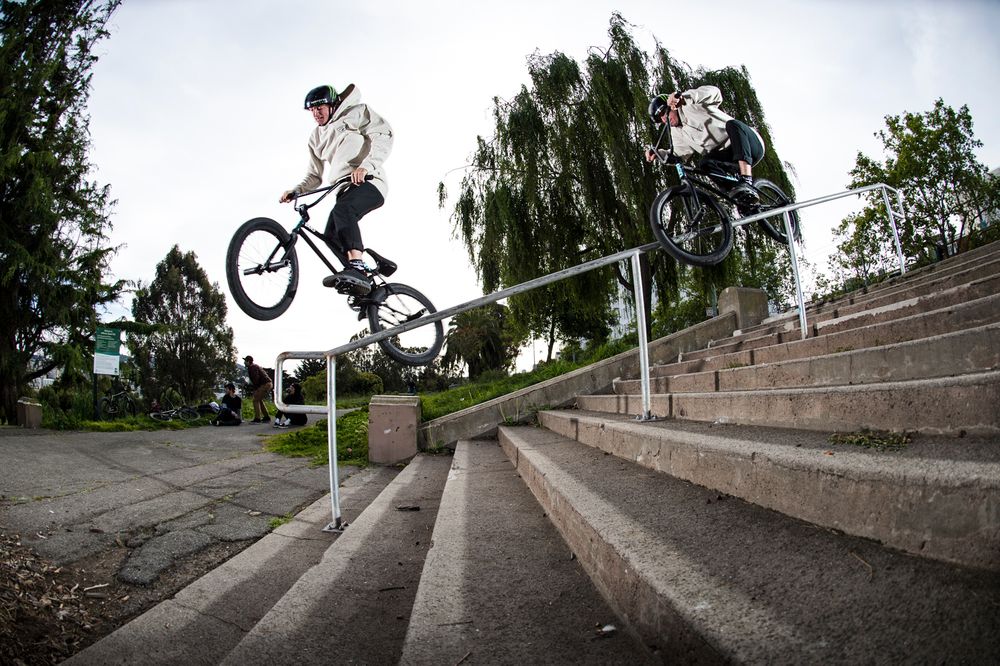 Alex in NorCal / photo by Wes McGrath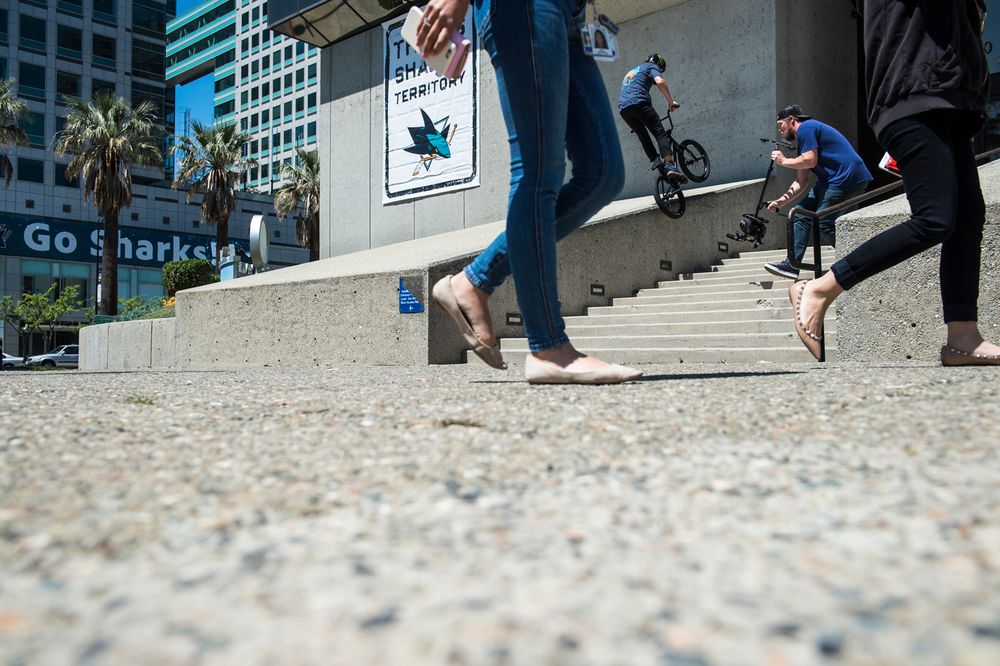 Alex in NorCal / photo by Wes McGrath
You've gone from having a reputation as the Coco Pops kid to eating a lot healthier these days. Is that a conscious decision?
Yeah, you only have one body so need to treat it well.
What's your worst habit?
Probably too obsessed with BMX.

What riders originally inspired you?
Mike Aitken, Chase Hawk, Liam Eltham, Garrett Byrnes, and Mat Hoffman. 

And who do you like watching ride now?
AK, Dan Lacey, Dan Paley, Nathan Williams and Chase Dehart.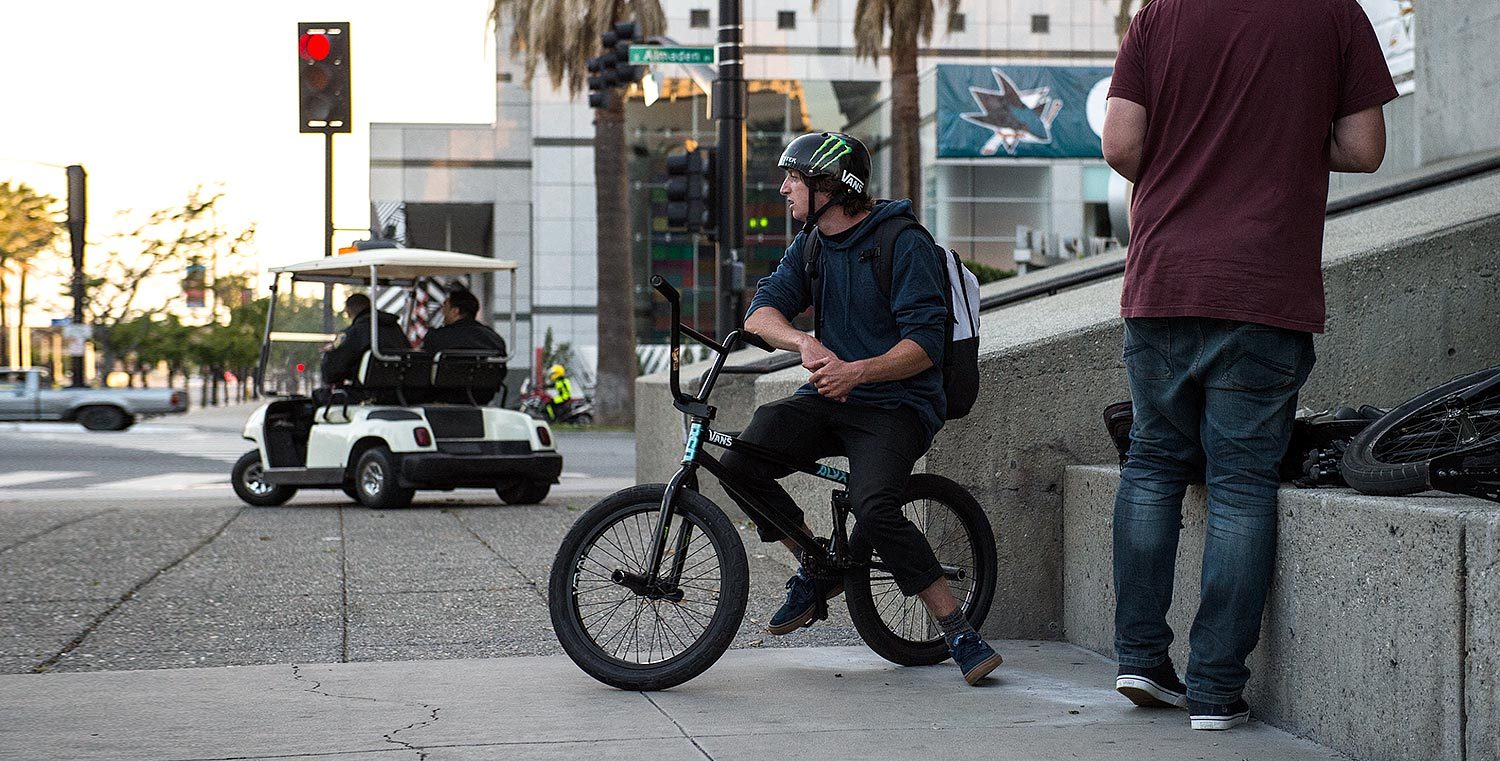 Alex D in SD shot by Eisa Bakos.
Places you would like to visit?
Hawaii and Iceland.

Night in or night out?
Night out.

When did you become such a party animal?
Livin' the dream!

What's your thoughts on riding contests?
I really don't like it but it's really cool to see all the other riders ride.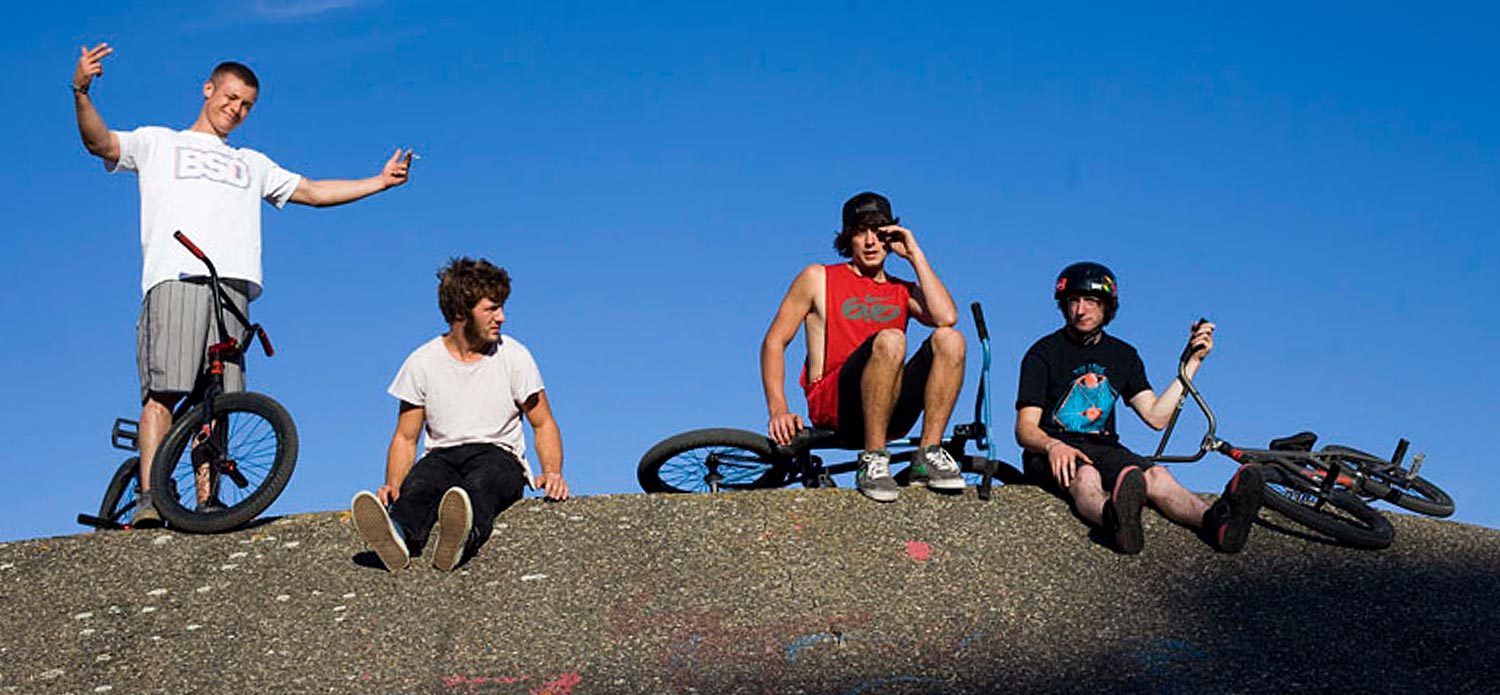 My first BSD trip which was around France for the Any Which Way DVD is my best memory so far.

Toulouse, France. Photo by Vince Perraud.
One-off setup or session spot?
Both haha.

One-and-done or one-hundred tries?
Both also.

Where is the last place you rode?
Vigo in Spain.

In all your travels have you had any crazy situations kick off?
Yes, every BSD trip haha…

What's does a typical BSD team trip consist of?
Camera rolls, snapchat, BMX, filming and much bantz…
Early start or sleep in?
Both have their advantages.

Pick one situation Dan Paley has got himself into and tell us about it?
It wasn't easy choosing one but I guess the last one where his passport got taken off him in Amsterdam and had to get an emergency passport to get home was so funny. I guess that situation is still going on as he still hasn't got a passport and missed out on going to Vigo which wasn't very good!

Instagram or Snapchat?
Snapchat.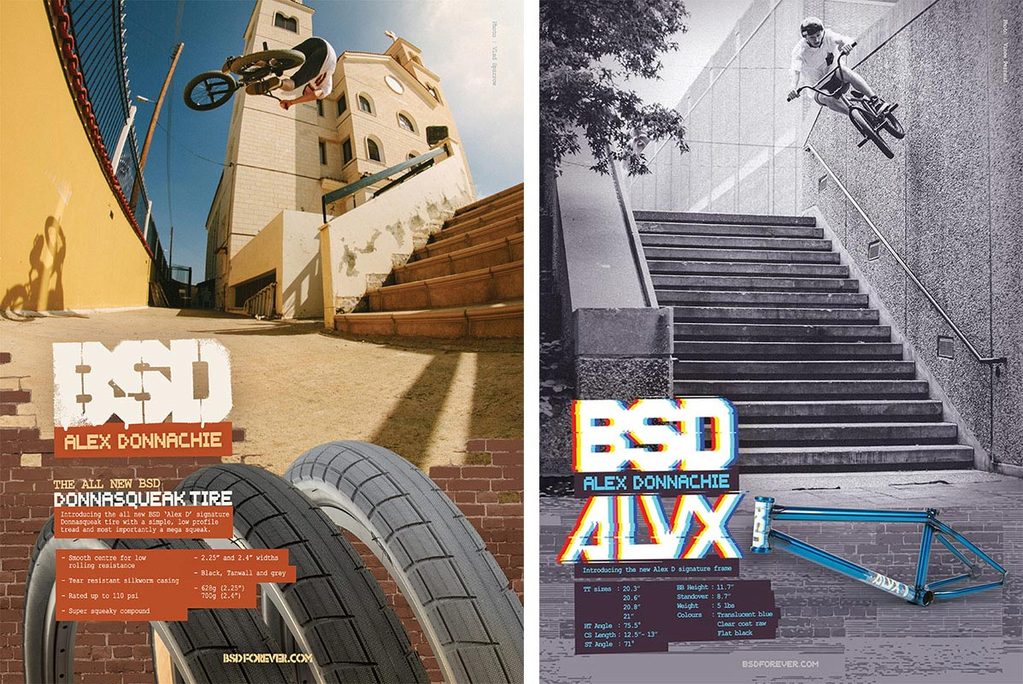 Local spots or new places?
New places.

How did Nearly start off?
Not sure it kind of just happened when I got a camera and started getting into filming.

Do you crack the whip on Nearly trips or are they chilled affairs?
I used to at the beginning haha but not anymore.
DVD part or web edit?
DVD.

What was it like to get a signature frame on BSD?
I couldn't believe it and still doesn't seem real haha.

Tell us about how you designed the ALVX specs?
I guess I wanted a steep head angle for nose manuals and a short back end to make it easier to do things.

How do you like to run your setup?
4 pegs, freecoaster and a gyro.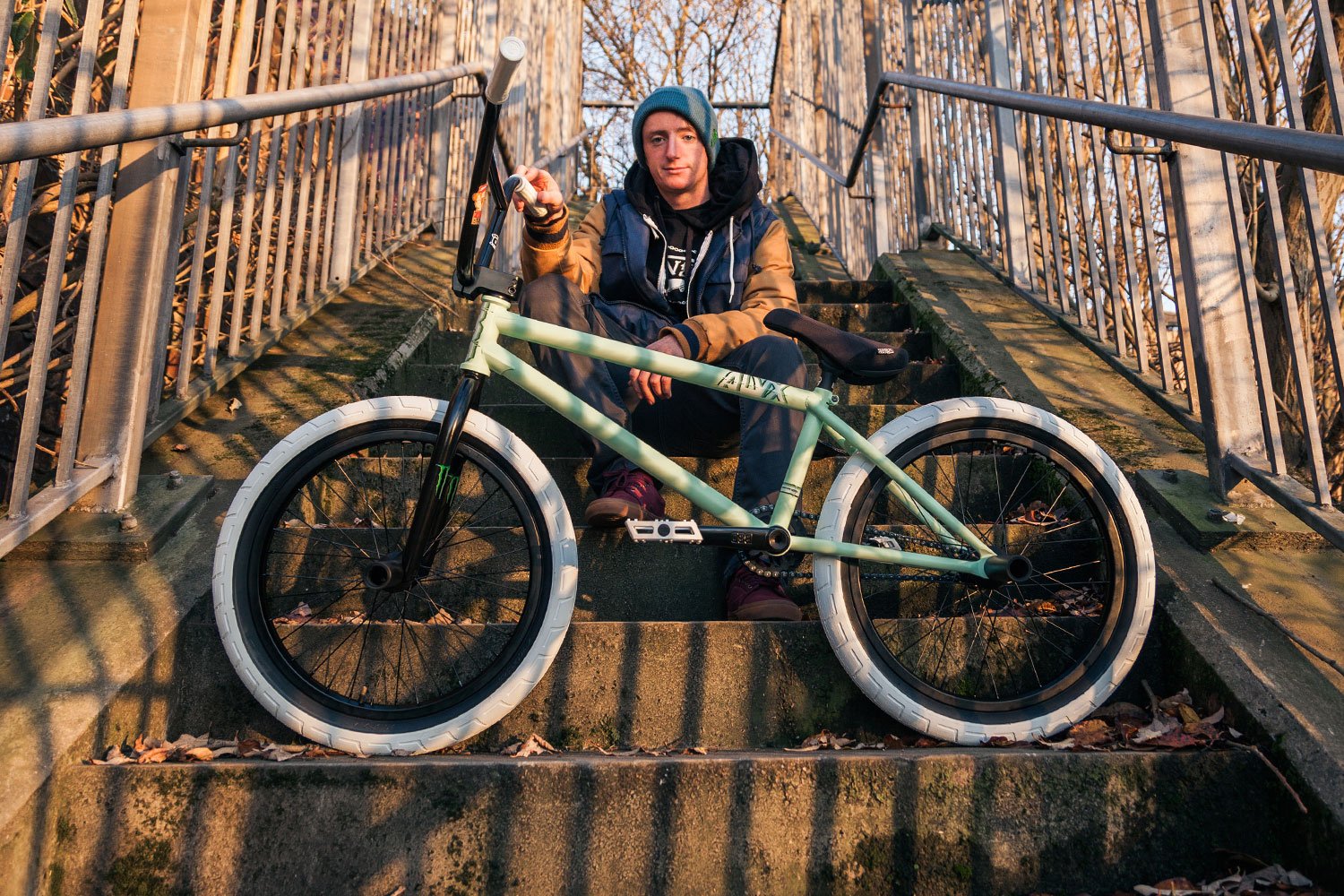 Alex Donnachie's BSD ALVX frame setup:
– FRAME: 'Minted' BSD ALVX 20.6″ frame
– BARS: Black BSD OS 1″ Zingbars
– GRIPS: White BSD Slims grip
– STEM: Black BSD OS 1″ Dropped stem
– HEADSET: BSD integrated headset
– FORKS: Black BSD Jonesin' Fork
– SPROCKET: Black BSD Guard Sprocket 25t
– CRANKS: Black BSD Substance XL cranks 165mm
– PEDALS: White BSD Safari pedals
– CHAIN: BSD 1991 halflink chain
– REAR HUB: Black BSD Westcoaster Hub with Jersey Barrier hub guards
– REAR TIRE: White BSD Donnastreet tire 2.4″
– REAR RIM: Black BSD NASA rim
– FRONT HUB: Black BSD Front Street PRO hub with Jersey Barrier hub guards
– FRONT TIRE: White BSD Donnastreet tire 2.4″
– FRONT RIM: Black BSD NASA rim
– PEGS: BSD Rude Tube LT XL
– SEAT: Blackout Camo BSD Soulja seat
– SEAT POST: Black BSD Blitzed post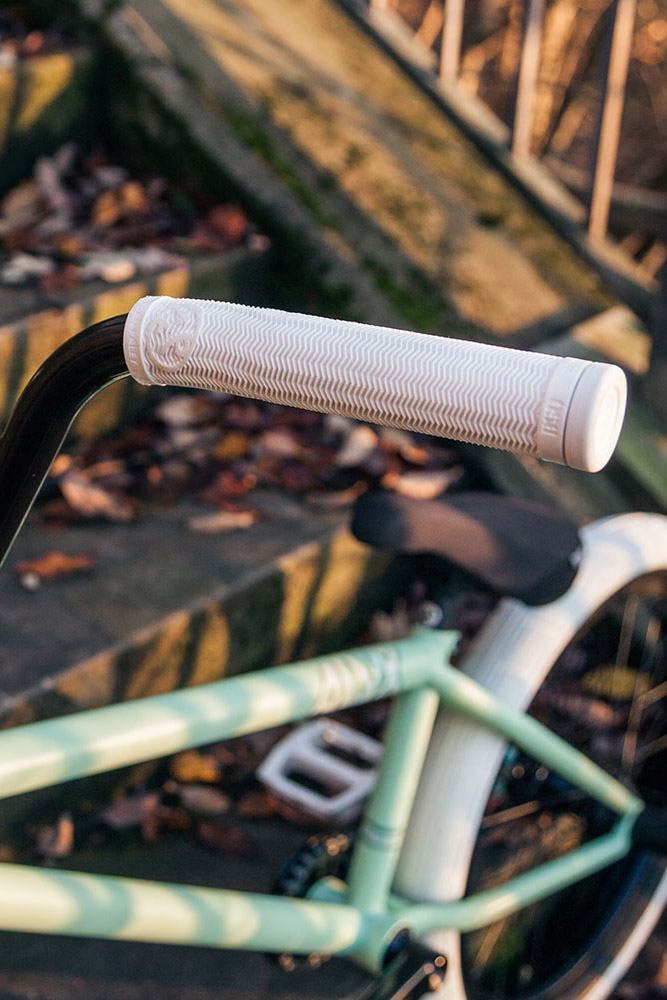 White Paley Slims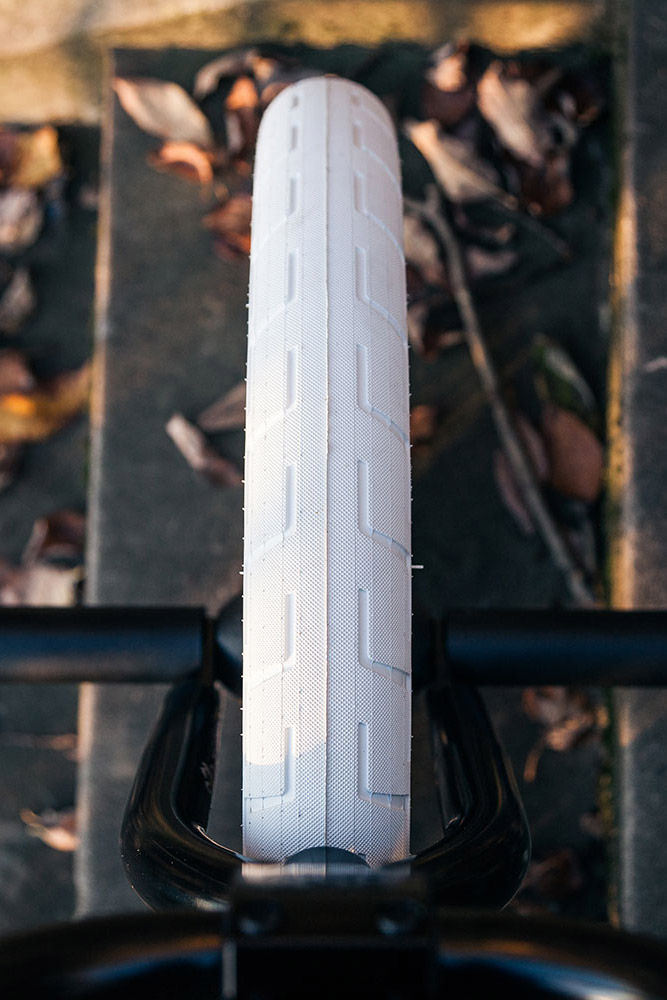 White Donnastreet 2.4"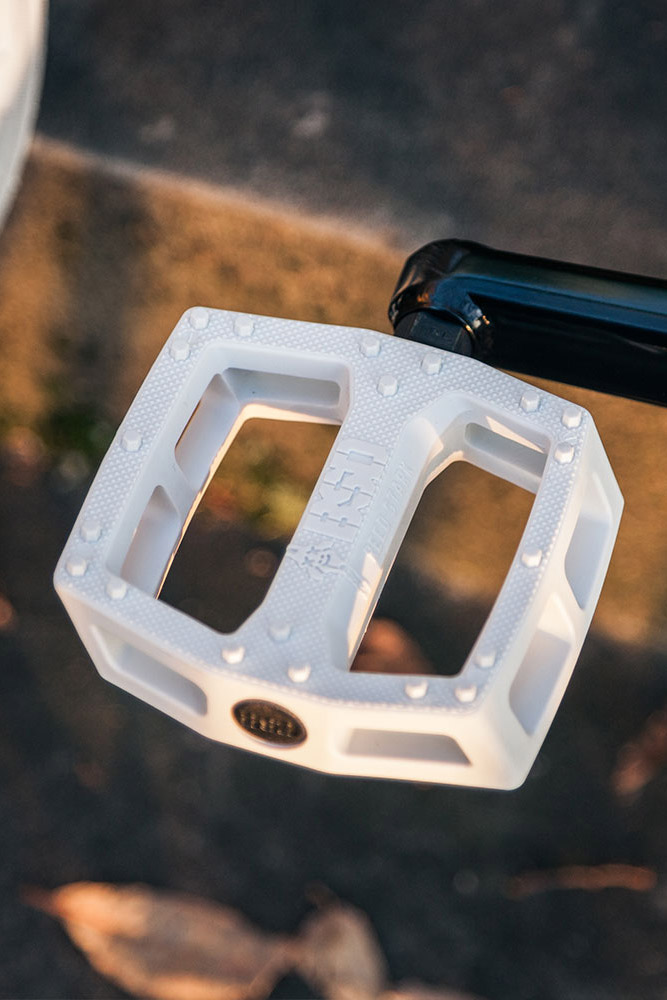 White Safari pedals