Year of Birth?
1992
Current place of residence?
Earth
Where did you grow up and what's your hometown like?
Minneapolis, Minnesota. It's green in the summer and white in the winter?
How old were you when you first started riding and what got you into it?
Age 9. Growing up we had some neighbors who were into rollerblading. They built this massive wedge to wedge next to my house. My brother and I started rollerblading with them and got into BMX not too long after that.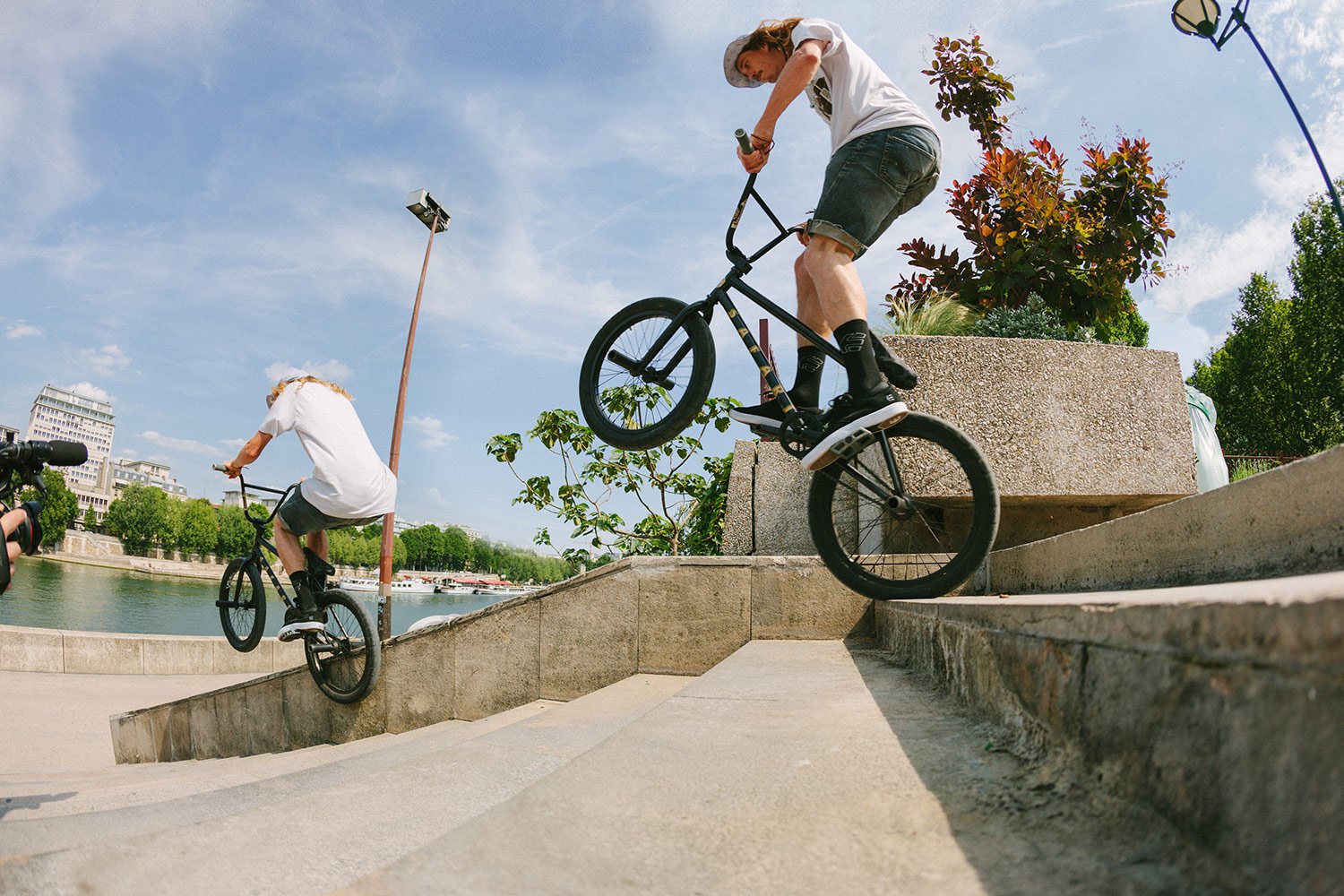 Paris 2017
What was the first BMX video you owned?
Road Fools 8.
Tell us about Team Dilly and filming for videos with that crew and your brother.
Team Dilly is a group of dudes in Minneapolis and some abroad that share the same lighthearted view on riding BMX. We cruise around town and try to have as much fun as possible. A lot of the members have grown up and don't ride much anymore, but there's still a few left. Filming for the Dilly DVD's with Kyle made me do so much shit I would have never tried. We'd roll up to something scary and I'd be sketched out. He'd say "What's the worst that's gonna happen?" and I'd usually just send it.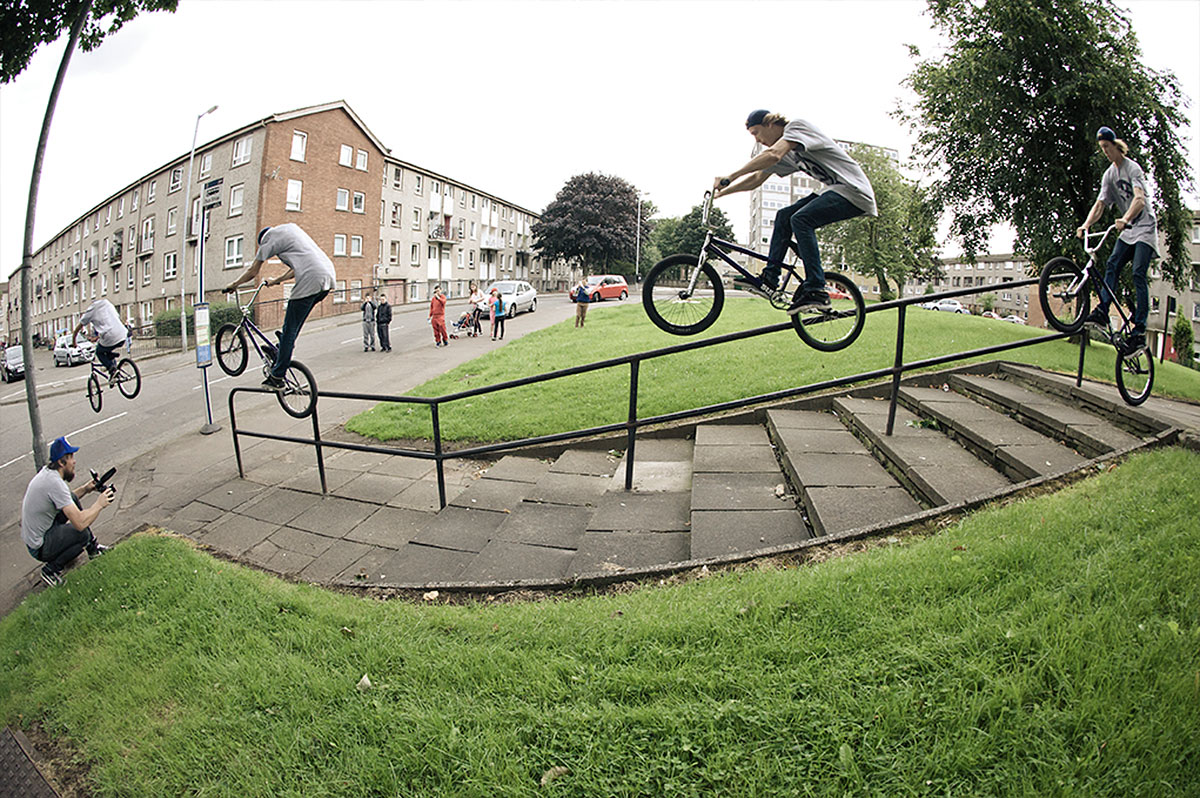 Living for the City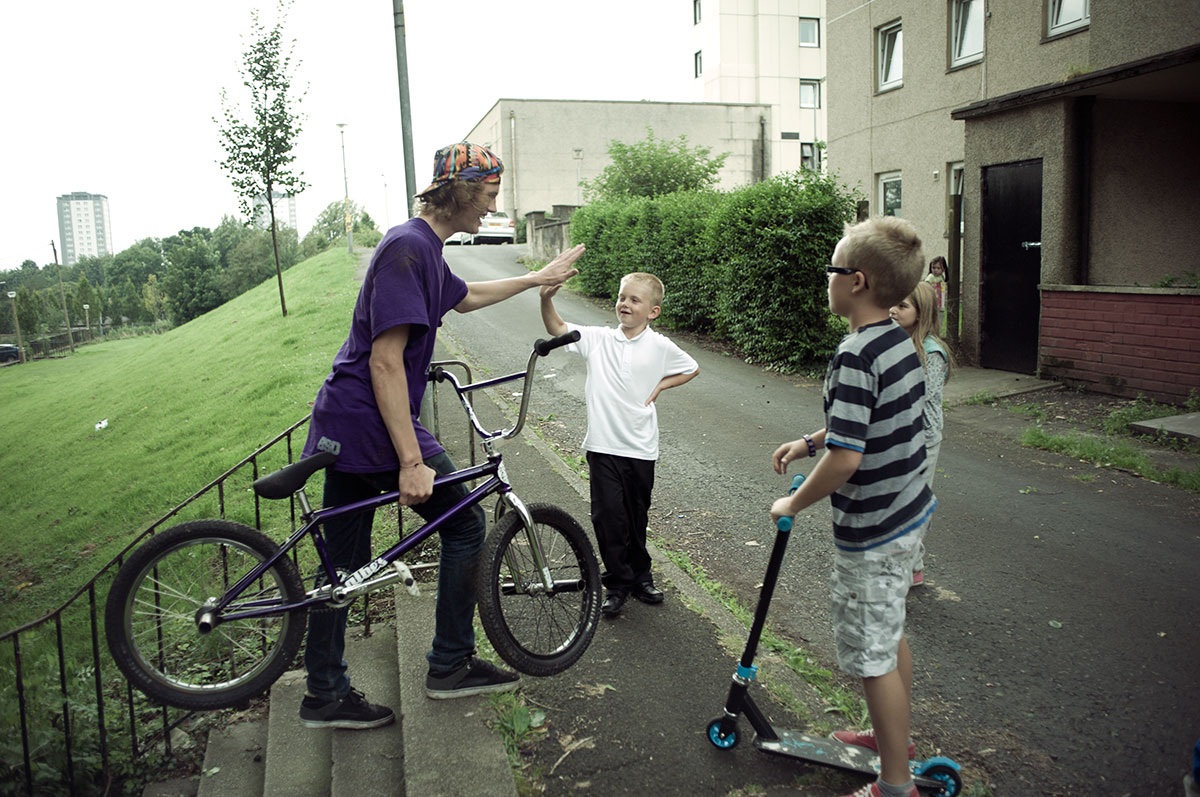 The locals give props to the Giraffic one
Session spot or one-off setup?
Both.
What riders originally inspired you?
John Heaton, Josh Nendza, Dirty Dan, Dom Trovato, Jeff Klugiewicz, Brian Kachinsky, Corey Martinez, Tom White .
And who do you like watching ride now?
Ty Morrow, Kachinsky, Mark Gralla, Pat Quinn, Hoder, Alex Donnachie, Greg Layden, Team SAF .
In all your travels have you had any crazy situations kick off?
Too many.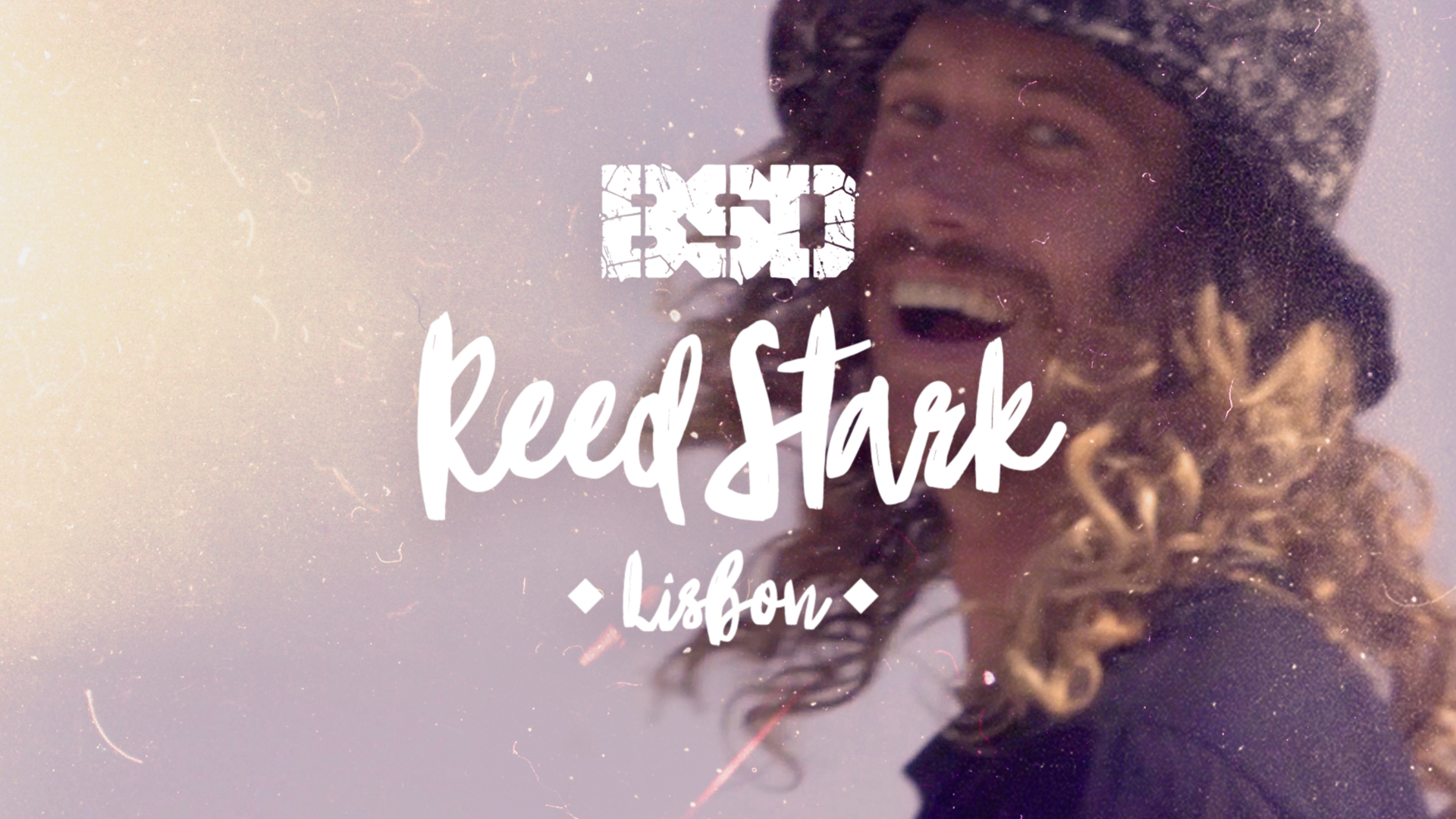 What's your thoughts on riding contests?
There's always a good after party.
How has your life changed now you have graduated Uni and have more time to ride?
It was liberating in the beginning. I traveled around the world and realized there's a lot more to life than riding BMX. Knew I needed another creative outlet so I started an ad agency. Now I'm busier than ever and couldn't be happier about it.
Early start or sleep in?
Early start.
Tell us about that crazy curved rail you did on the Big Rig trip with Dig?
That one almost killed me. Wish you could've seen all the crashes haha.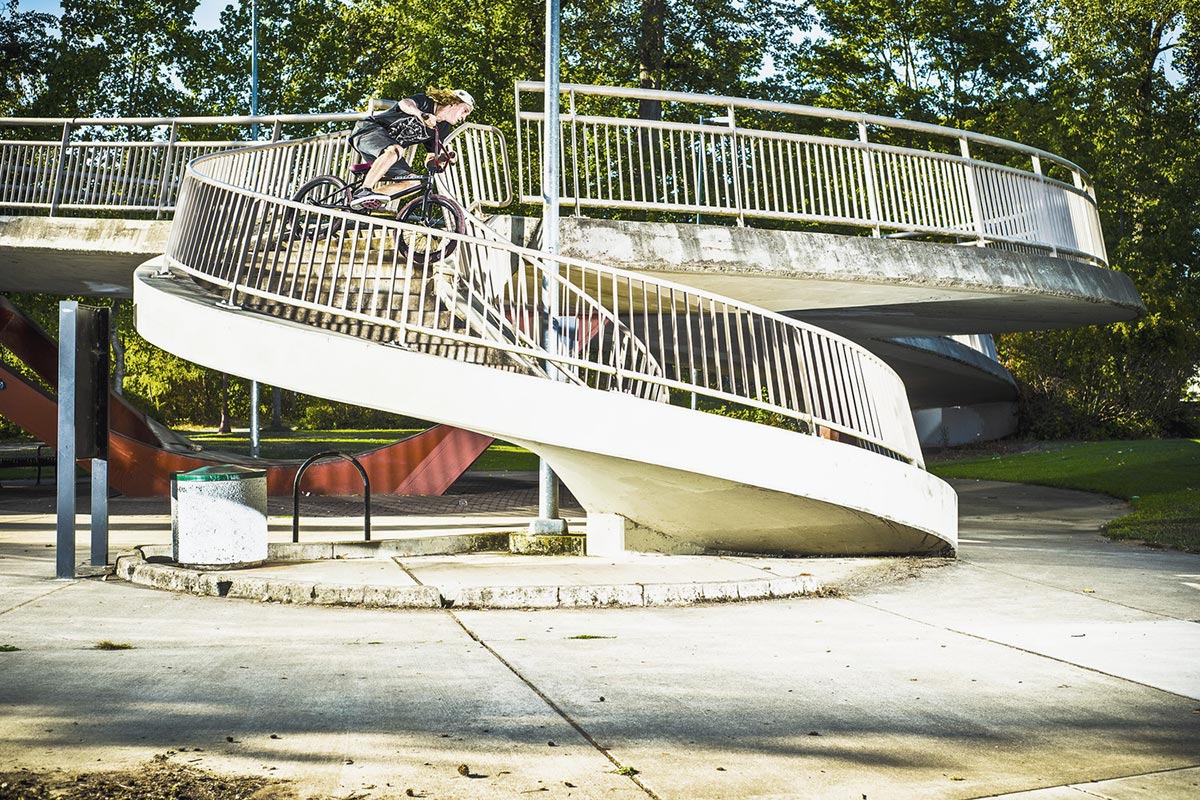 "That one almost killed me. Wish you could've seen all the crashes"
What's your worst habit?
Sweets.
Night in or night out?
A balance is good.
What does a typical BSD team trip consist of?
Hunting for hoggs, swimming, wine, Snapchat, laughs.
Style or stunts?
Style.
How was it bringing the BSD team to your home town for a trip?
A dream come true.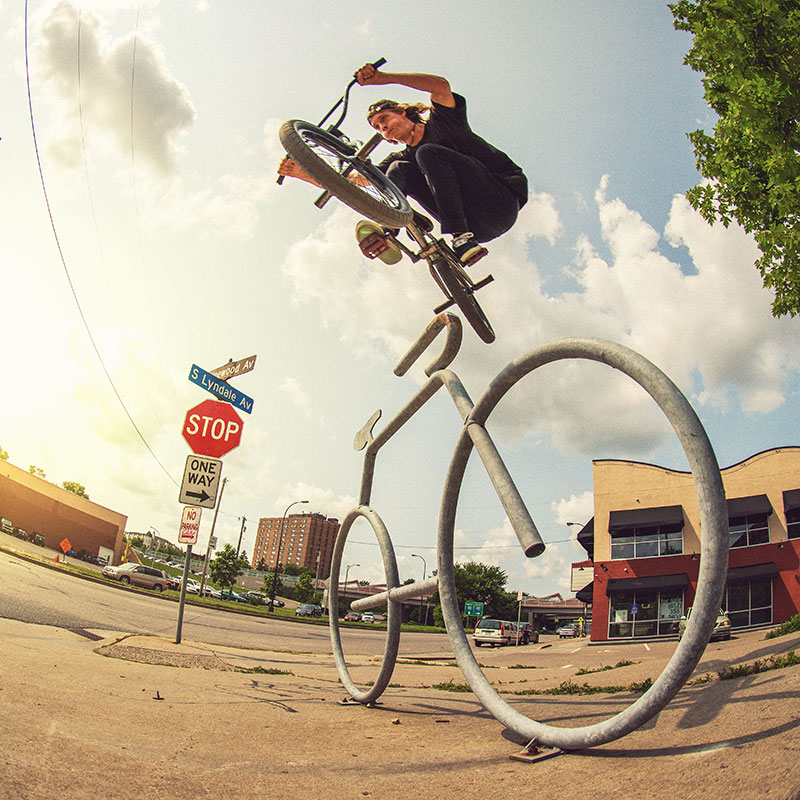 Bikes over bikes, at home in MN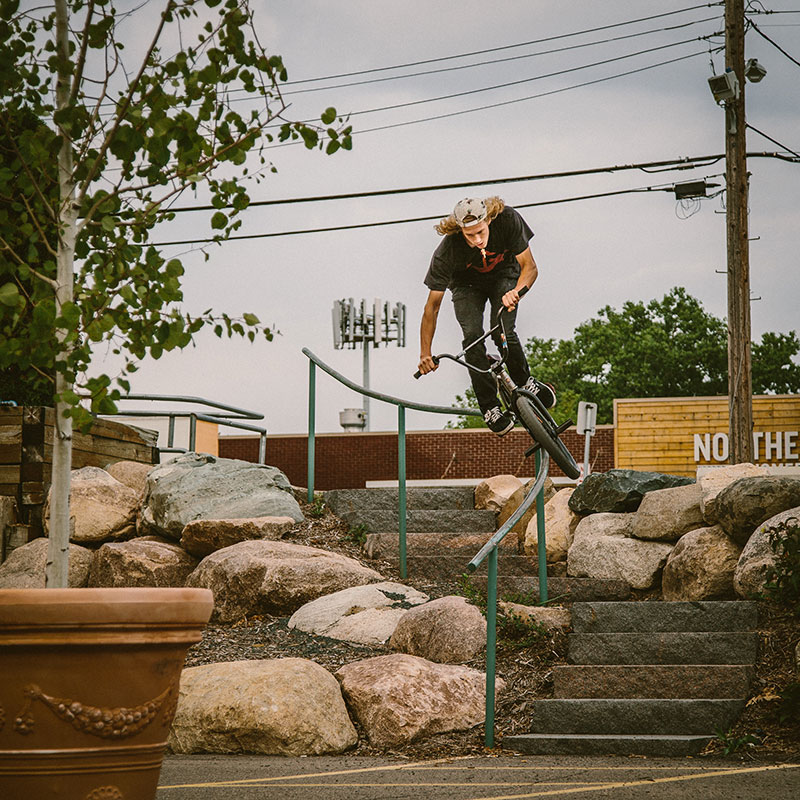 Hoopty, sketchy, no worries
What were your thoughts on the UK the first time you came over with BSD?
Stayed at Unit23 with Kriss for a few months and absolutely loved it. We would be inside riding for days straight. I kicked it with Fred Murray in Glasgow for a bit too which was good. At the end of the trip I remember being confused as to why anyone would live in a place that's so gray, rainy, and cold during the summer. I keep coming back though so I guess it's not too bad.
Instagram or Snapchat?
Snapchat.
Places you would like to visit?
Japan, Thailand, Space, New Zealand, South Africa, Madagascar.
Where is the last place you rode?
On an island off the coast of Africa.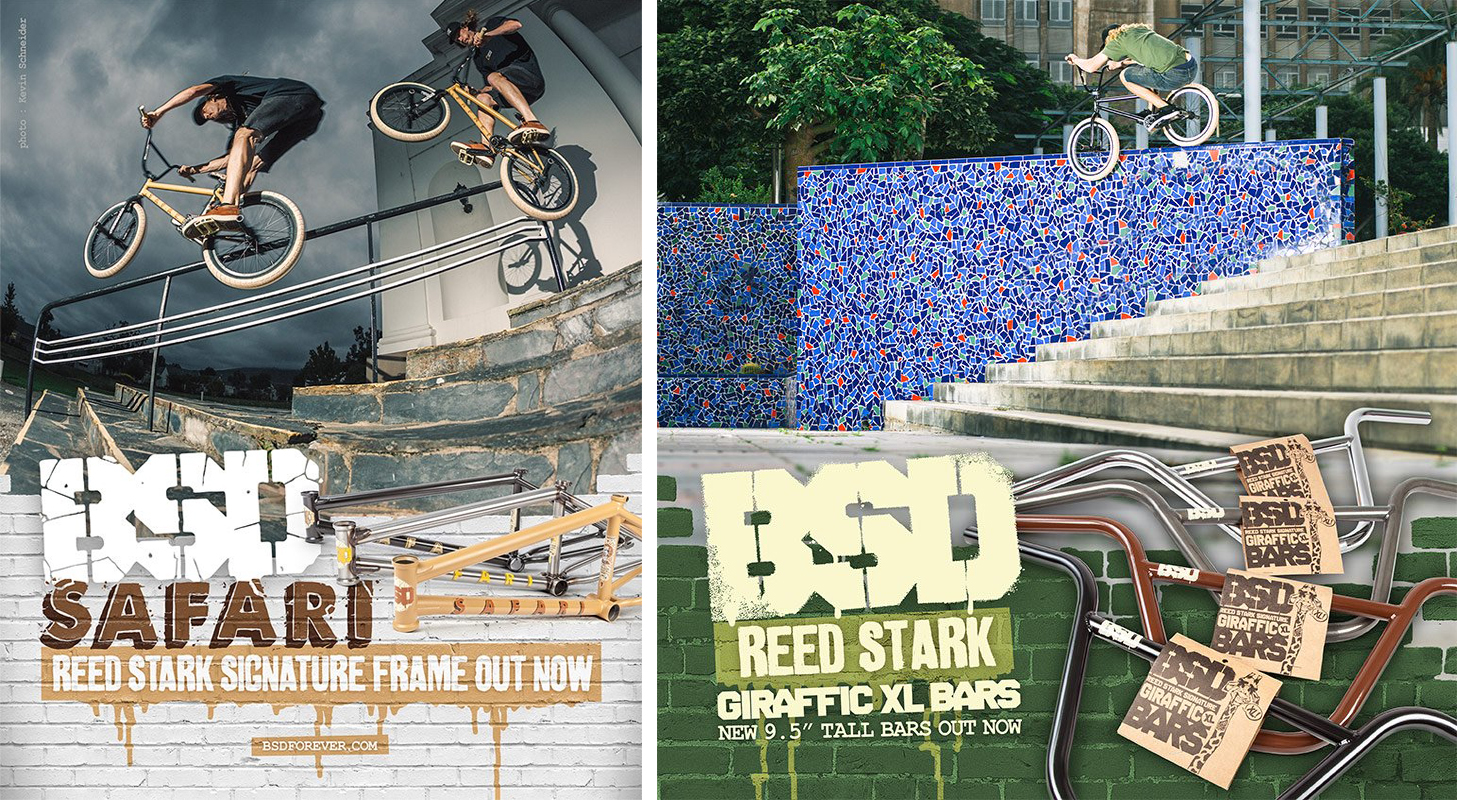 You had a lot of input into the design of your signature Safari pedal. Tell us about how that came about and the work you put into it?
I developed the Safari pedal during my senior year of university. I used plastic BMX pedals for multiple account planning and strategic communication projects in school and did heaps of research to figure out the most important pedal features and how we were going to incorporate them. I had the idea to place extra pins in high impact areas years before then. I worked with Grant @ BSD for about a year to make sure the mold was dialed. We got a 3D sample printed and it felt perfect.
One-and-done or one-hundred tries?
10 tries or less so you feel it but it doesn't ruin your day.
What went down that day you got the clip for the Safari pedal promo video?
I tried a bump jump ice 180 for way too long. A lady came out of a nearby building screaming that she owns the rail, the parking lot, and that we weren't allowed to be there. I knew I only had a few left in me before she'd call the cops so I kept making my run-up loop shorter and shorter. After about 4 tries she stood at the end of the rail. I rolled up and said, "You better watch out" and pulled it around. Vomited right after because I was so exhausted from trying it over and over. She was so mad, haha.
Video part or web edit?
Video part.
How do you like to run your setup?
Tall and smooth.

Tell us about getting your signature frame and how it rides.
Stoked as fuck on this one. Feels so nice to be on a frame with a long front end and short back end, more room for these long giraffe legs but still responsive and has control for spins and that. Shot a photo of the Sahara desert when I was on a camel safari last year in Africa and now that sand is one of my frame colors. Can't ask for much more than that…
Any final words?
Thanks for the spot on the floor. I couldn't do this without you…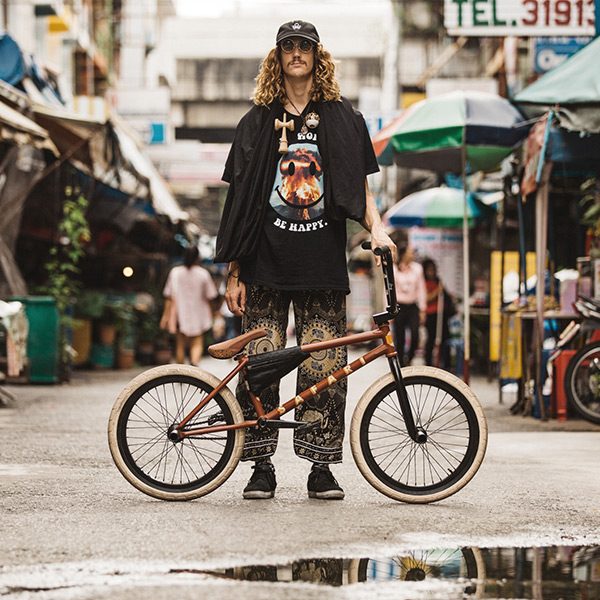 Reed and his Safari set up in Bangkok
Reed Stark's BSD SAFARI setup:
FRAME: BSD Safari 21.8 in 'safari mud' colour
BARS: BSD Giraffic XL bars OS 1″ clamp
GRIPS: BSD Paley Slims grip
STEM: BSD Stacked stem OS 1″ clamp
HEADSET: BSD Integrated heasdset
FORKS: BSD Jonesin' fork
SPROCKET: BSD Guard sprocket 28t
CRANKS: BSD Substance XL cranks 175mm
PEDALS: BSD Safari pedals
CHAIN: BSD 1991 half link chain
REAR HUB: BSD Westcoaster hub
REAR TIRE: BSD Donnastreet 2.4″ in sand
REAR RIM: BSD NASA rim
FRONT HUB: BSD Front Street Pro hub
FRONT TIRE: BSD Donnastreet 2.4″ in sand
FRONT RIM: BSD NASA rim
PEGS: BSD Rude Tube LT XL
SEAT: BSD Safari Zulu mid seat
SEAT POST: BSD Blitzed post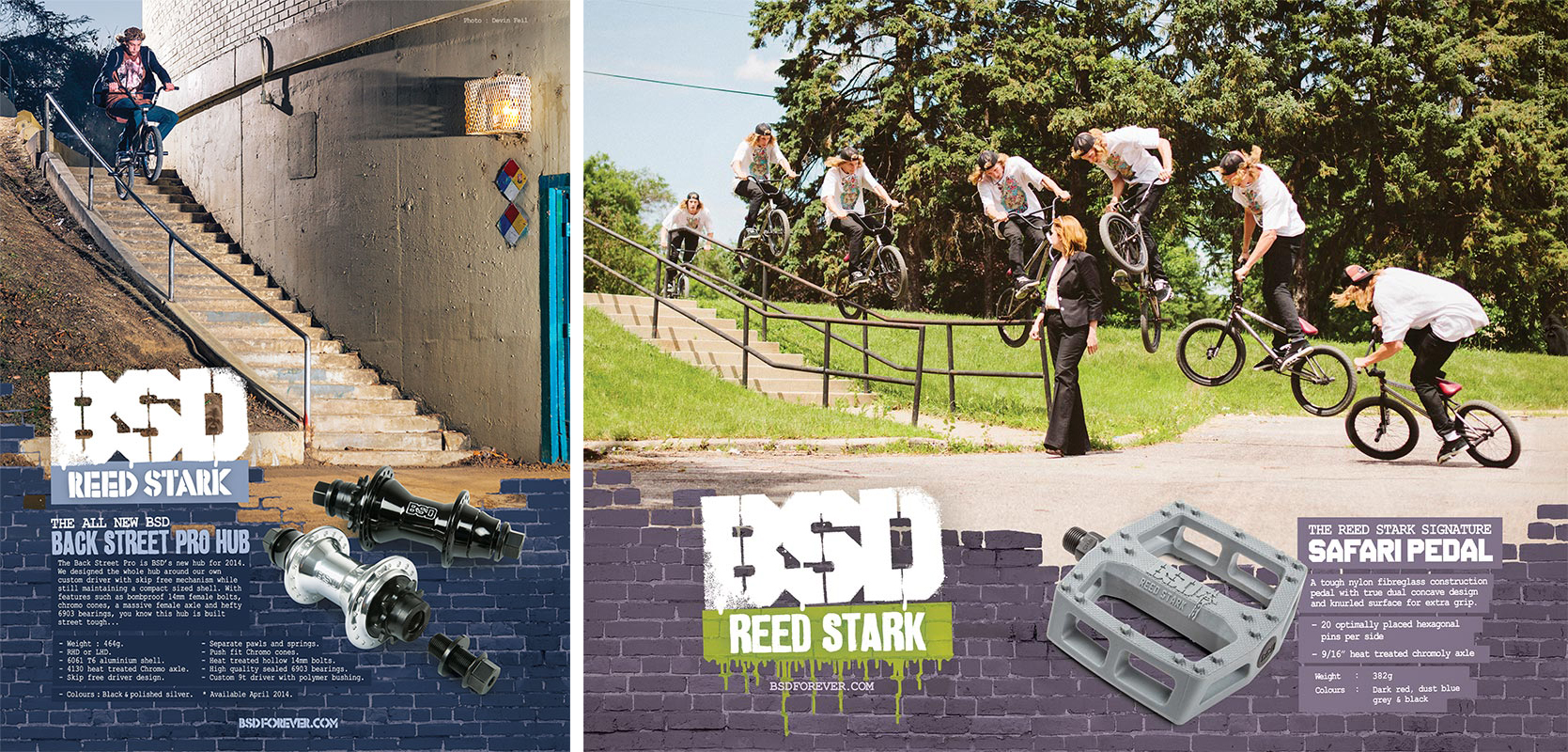 Back Street Pro hub and Reed's signature Safari pedal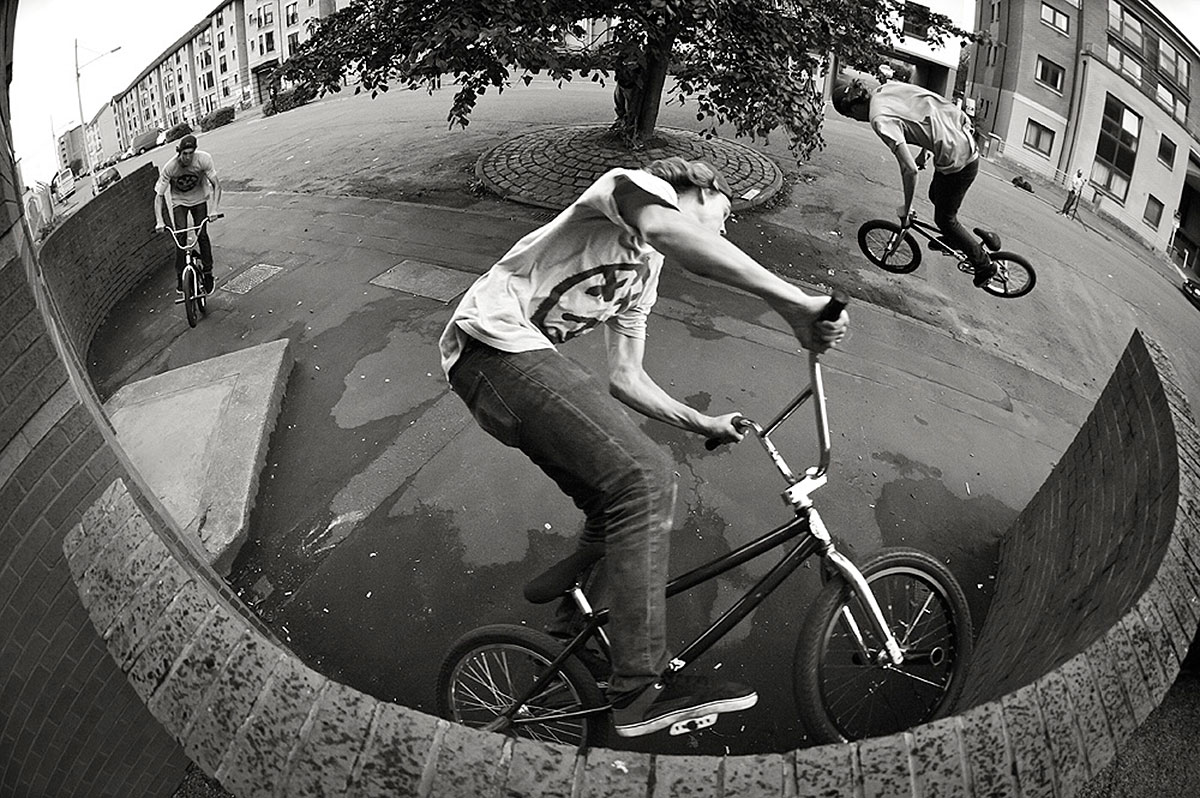 Living for the City, Glasgow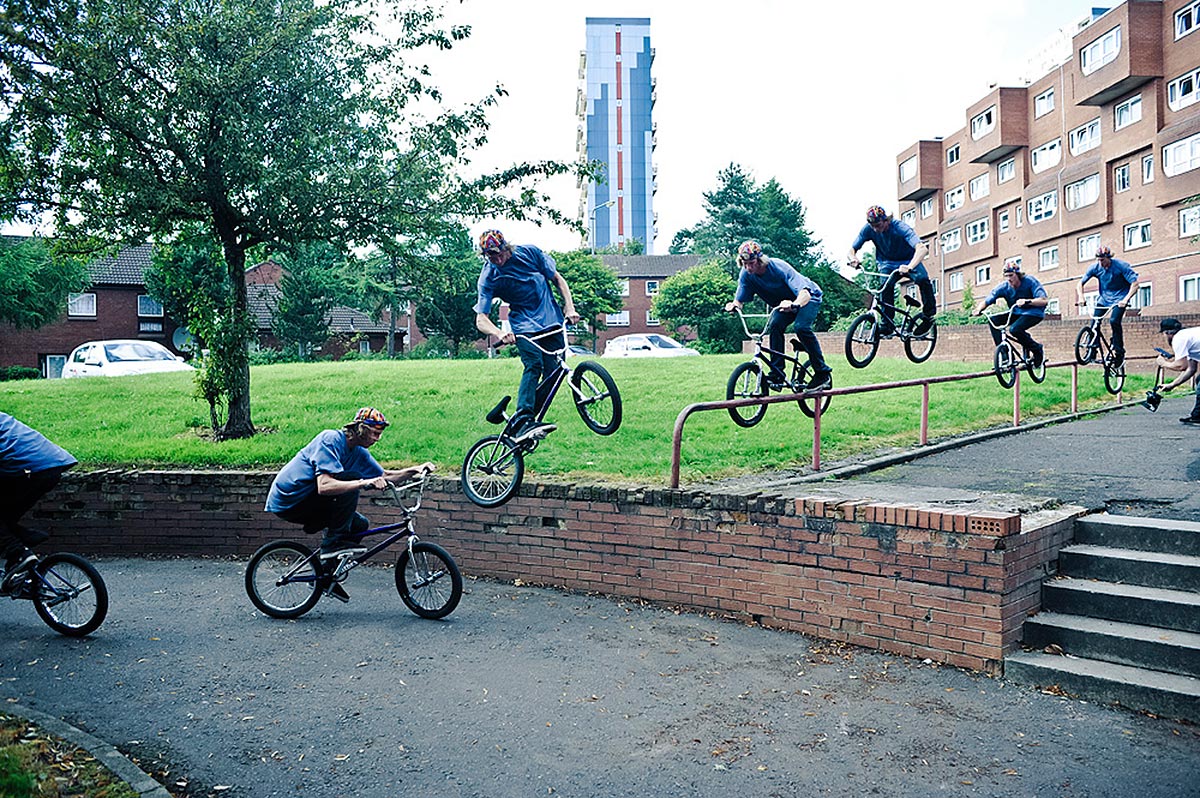 Glasgow is full of great set ups like this one round the corner from the BSD HQ